*WC BEACH IS OPEN TO ANY FEMALE PLAYER 13-18 FROM ANY CLUB, INDOOR OR BEACH!*

---
WC BEACH 2017 FALL PROGRAM
FALL Dates: September 11th – December 21st
Time: 3:30pm-5:30pm
3 Practice Days Per Week: Monday, Wednesday, & Thursday
---
WC BEACH 2018 SPRING PROGRAM
SPRING Dates: January 8th – June 14th
Time: 3:30pm-5:30pm*
*time may vary in winter months due to sunlight
Check online calendar for exact practice times.
4 Practice Days Per Week: Monday, Tuesday, Wednesday, & Thursday
---
Location for all Beach Practices: 2600 Barnard Way Santa Monica, CA 90405
-In front of Perry's, Parking/drop off at parking lot 5 south;
one block south of Ocean Park Blvd. on Barnard Way
*Check calendar as times will vary due to sunlight
---
WC BEACH Club Membership Packages
We offer 2 and 3 days of practices per week training options. Membership packages include player swag packs, access to performance training, and coaching at tournaments. Contact us for more information.
Practice Packs
10 Practice Pack: $350*
5 Practice Pack: $185*
Single Practice: $40
*can be used anytime within each program's date range
---
WestCoast Beach Volleyball Club provides beach training for girls 13-18 years old in Santa Monica, CA. We offer progression based drills and tailored competition to prepare athletes for their next tournament. Specific feedback related to technique, strategy, confidence building, teamwork, and mindset training is given during every session. Practices are directed by Travis Schoonover, 2015 NVL BEST DEFENSIVE Player of the year. WestCoast BEACH is open to any female player, beginner to advanced, from any club.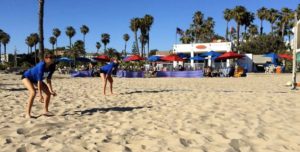 There is an option for all athletes who train with WestCoast BEACH to enter tournaments. Our tournament teams compete locally in the JBVL, CBVA Youth Series & Endless Summer Series.
For more information, contact the WC Beach Director: travis@westcoastvbc.com
---
BEACH TOURNAMENT INFORMATION
There are many different fun and exciting beach tournaments for the girls to compete in. Check the following schedules for upcoming tournaments in your area.
Junior Beach Volleyball League
Endless Summer Volleyball Tour
---
WestCoast Beach Mailing Address:
WestCoast Volleyball Club
10008 National Blvd. #103
Los Angeles, CA 90034