Aaron Wexler
WestCoast VBC Founder & Beach Director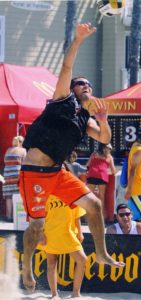 Crossroads School Varsity Girls Head Coach 2013-2017
Crossroads 2016 CIF Champions, D3 State Regional Champions, D3 State Finalists
CIF 2016 D6 Coach of the Year
UCLA '11 Volunteer Assistant for UCLA Women's team under Mike Sealy WON D1 CHAMPIONSHIP
B. A. in Geography/Environmental Studies '06
UCLA Libero for Mens team under Al Scates '01-'05
SAMOHI '01, Setter/OH
Competitor on beach circuits: 10+ years of competing on the beach – 4 CBVA Open Titles, 2 AVP Main Draw appearances, 1 NVL Main Draw appearance
Maccabiah Games 2005 Silver Medalist, (Israel)
Gilberto Classic Champion x2, '15 & '17 (Venice CA)
13 years of indoor girls club coaching: WestCoast VBC '14-present, Sunshine VBC '10-'14, Sinjin Smith Volleyball Academy '08-'09, Palisades VBC '06-'08
National Academy of Sports Medicine Certified Personal Trainer. CPR/First Aid certified
Current private indoor & beach coach for clients for 8-30 years old


Coaching Philosophy:
"Commit to the process of becoming 1% better everyday, as a player and as a person. As you show up as the best version of yourself, others around you will be empowered to do the same. Be grateful for your opportunities, be fearless in your efforts, and always play with love for the game."
Brittnay Estes
Beach Coach & Social Media Director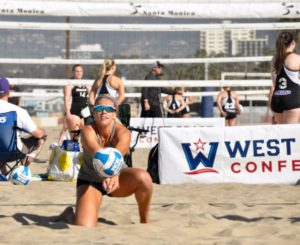 Crossroads Volleyball Varsity Assistant (1st Year)

WestCoast Beach Volleyball Club (1st Year)

Loyola Marymount Beach Volleyball Volunteer Assistant (1st Year)

Alliance Volleyball Club (2 Years)15-3 Head Coach, 18-2 Assistant Coach

Master's in Educational Studies '17

Loyola Marymount University Beach Volleyball for John Mayer & Betsi Flint '16-'17

West Coast Conference Commissioner's Honor Roll

B.A. in Journalism and New Media '16

Lipscomb University Volleyball Right Side for Brandon Rosenthal '12-'16

AVCA South-Region 1st Team All-American 2015

Atlantic Sun Player of the Year 2015

Atlantic Sun Tournament Most Valuable Player 2015

East Lake High School (FL), OH

2012 Florida 8A State Champions

CPR/First Aid Certified


Coaching Philosophy:
"I believe in the practice of Growth Mindset training. Growth Mindset is the key to becoming a great learner and achieving our goals in sports, in school, and in life. During practice I like to focus on skill progression to allow for fundamental growth and game-like progress." 
---
Travis Schoonover
WC Beach Director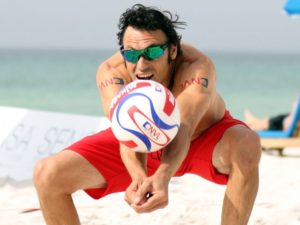 Crossroads School Girls Varsity Volunteer Assistant (5th year)
Crossroads 2016 CIF Champions, D3 State Regional Champions, D3 State Finalists
Thousand Oaks '01, Setter
Pierce College, SMC college, B.A. – Business (In progress)
Competitor on AVP, NVL, & CBVA tours: NVL Competitor & SmackSportswear Sponsored Athlete, NVL top 10 player '14 & BEST DEFENSIVE PLAYER '15
CBVA 10x Open Champion, Gilberto Classic Champ '17, Moonlight Beach Champ '17
13 years of club coaching: WestCoast '14-present, Sunshine VBC Head Coach '11-'14, Gene's Team Head Coach '08-'11, Reef VBC Head Coach '06-'08, Spectrum VBC Head Coach '05-'07, Mustangs VBC Head Coach '03-'05, Zuma Bay Head Coach '01-'03



Coaching Philosophy:
"I believe in proper preparation. This starts with mindset training for our athletes. I run progression-based practices sessions that focus on proper technique, fundamentals, and game preparedness."
Ilan Goldstein
WC Beach Coach
3 Year Starter NYU Volleyball (Setter), 

Team Captain (2009)

EIVA Semifinalist (2008) Best finish in program history.

 

Set records for most assists in a game, season and career.

 

3 Year Starter for Brentwood School (Outside Hitter)

2 Time CIF SS D4 Finalist (2003 & 2004)

3 Time All-CIF Selection (2003, 2004, & 2005)

3 Time All Olympic League Selection (2003, 2004, & 2005)

Beach

– 2003 Junior Olympics 16U Gold Medal

– 2005 Maccabiah Games Bronze Medal (2005)

– Junior Olympic 16U All tournament team selection (2003, SCVC)

– MA Sociology (2014) UCLA

– Private Music Teacher since 2011
 Coaching Philosophy:
 "I strive to help players become complete athletes; as prepared for success mentally as they are physically. By growing fundamentals into effortless familiarity with the game, we not only achieve more success on the sand, we also have more fun."

Steph Waters
Little Spikers Beach Coach

Began playing indoor volleyball at age 12
 4 – year starter on high school team- P.K Yonge Developmental Research School (Gainesville, FL)
2000 Florida 2A State Champions 
2002 Florida 2A State Champions 
Outside hitter for the Gainesville Juniors Volleyball National club team from 2001-2006.
Defensive specialist at James Madison University from 2006-2008
Began playing beach volleyball in 2014, participating in CBVA tournaments – earned AA rating first season of playing competitive beach.
Reality television producer for shows such as Hell's Kitchen, Dancing with the Stars, Dallas Cowboys Cheerleaders – Making the Team along with many other shows.
 Coaching Philosophy:
"I believe not everything comes to us naturally or easily. However, most things can be achieved through determination, focus and a genuine love for the game. Rather than thinking, "I could never do that" Start asking, "What would it take to do that?" Anything is possible with the right mindset as well as a plan of action."