*WC BEACH IS OPEN TO ANY PLAYER 10-18 FROM ANY CLUB, INDOOR OR BEACH!*
SANTA MONICA – SOUTH OCEAN PARK
*

Girls

Ages 10-18*
2021 FALL Schedule
FALL Dates: September 13th – December 16th
Practice Days:
Mondays, Tuesdays, Wednesdays, Thursdays
Practice Time:
4:00pm – 6:00pm*
*Changes to 3:30-5:15pm in Nov & Dec
---
LITTLE SPIKERS
*

Girls

 Ages 6-9*



2021 SUMMER & FALL Schedules
FALL Dates: September 13 – December 15th
Practice Days:
Mondays & Wednesdays
Practice Time:
4:00pm – 5:00pm
Players can come to one day or both days!

Location for Santa Monica Beach Practices:
2600 Barnard Way Santa Monica, CA 90405
-In front of Perry's, Parking/drop off at parking lot 5 south;
one block south of Ocean Park Blvd. on Barnard Way
---
MANHATTAN BEACH – ROSECRANS
*

Girls

Ages 10-18*
2021 FALL Schedule
FALL Dates: September 14th – December 16th
Practice Days:
Tuesdays & Thursdays
Practice Time:
4:00pm – 6:00pm*
*Changes to 3:30-5:15pm in Nov & Dec
Location for Manhattan Beach Practices:
116 45th St, Manhattan Beach Manhattan Beach, CA 90266
-Enter El Porto Parking lot on 45th Street from Highland Ave;
Go all the way through the parking lot to the Volleyball Courts
---
2021 WC BEACH Club Membership Packages
In the Summer, we offer the following options for WC BEACH & WC JUNIORS: a full summer pass, month pass, weekly pass, and practice packs. Practice Packs may be used Year-Round.
In the Fall & Spring Seasons, we offer "committed player packages" – 4, 3, & 2 days of practices per week training options for WC BEACH and WC Juniors.
Committed Player Packages for 4, 3, or 2 practice days per week:
Players choose which practices they will attend and they must stick to that schedule. Practices offered Monday – Thursday, as well as some added Saturday practices. Player Packs are included in the price and consist of: backpack, hoodie, sweat pants, competition top, long-sleeve, visor. BVNE Tournaments held in Santa Monica are also included.
FALL 2021 Pricing
WC BEACH & WC JUNIORS (ages 10-18)
September 13th – December 16th (M/T/W/TH)
14 week program (56 practices)
Committed Player Pricing
4 days: $2,000 (56 practices)
3 days: $1,700 (42 practices)
2 days: $1,400 (28 practices)
BVNE Tournaments in Santa Monica: 10/24, 11/14, 12/12
---
Practice Packs
May be used year-round
10 Practice Pack: $400
5 Practice Pack: $225
Want to try a practice?
Single Practice: $50 (expires after 2 months)
---
LITTLE SPIKERS (ages 6-9) (Santa Monica)
Fall Dates: September 13th – December 15th (M/W)
14 week program (28 practices)
10 Practice Pack: $200
5 Practice Pack: $115

Want to try a practice?
Single Practice: $25 (expires after 1 month)
We have a no refund policy.
---
---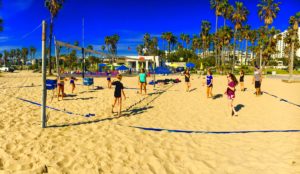 WestCoast Beach Volleyball Club provides beach training for girls 6-18 in Santa Monica, CA. We offer progression based drills, conditioning, & tailored competition to prepare athletes for their next tournament. Specific feedback related to technique, strategy, confidence building, teamwork, and mindset training is given during every session. Practices are directed by Travis Schoonover, 2015 NVL BEST DEFENSIVE Player of the year. WestCoast BEACH is open to any player, beginner to advanced, from any club.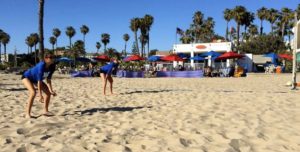 There is an option for all athletes who train with WestCoast BEACH to enter tournaments. Our tournament teams compete locally in the CBVA Juniors Tour, which is operated by the CBVA (California Beach Volleyball Association). Teams representing WC BEACH will wear WC BEACH gear and register under WestCoast Beach Volleyball Club.
For more information, contact WC Beach Program Director: Aaron Wexler aaron@westcoastvbc.com
---
BEACH TOURNAMENT INFORMATION
California Beach Volleyball Association (CBVA), Beach Volleyball National Events (BVNE), & Amateur Athletic Union (AAU) offers Junior Tour Tournaments. Players select their partners, and parents register them through the registration link listed on each tournament. Every player competing in each event will need to have a current membership for each respective organization.
For more information, contact WC Beach Tournament Director: Travis Schoonover travis@westcoastvbc.com 
CBVA:
CLICK HERE FOR THE 2021 SUMMER CBVA YOUTH SCHEDULE
BVNE:
CLICK HERE FOR THE 2021 SUMMER BVNE SCHEDULE
AAU: 
CLICK HERE FOR THE 2021 SUMMER AAU BEACH SCHEDULE
---
WestCoast Beach Mailing Address:
WestCoast Volleyball Club
10008 National Blvd. #103
Los Angeles, CA 90034